The Mortgage Place, Inc.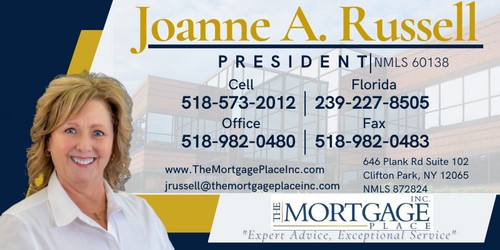 The Mortgage Place is a registered mortgage broker with the New York State Department of Financial Services and a licensed mortgage broker of Florida Department of Financial Services. NMLS# 872824. As a company, we strive to provide customers with sound advice and exceptional service. The expert advice that you will receive from The Mortgage Place can only come from the combined years of experience and education of our professionals.
The Mortgage Place represents many mortgage lenders, banks and credit unions. We offer residential and commercial mortgage financing.
At The Mortgage Place, we recognize that buying or refinancing a home is a huge commitment. At our initial consultation, we will work together to determine your goals, needs and financial strategies. We will patiently describe the different mortgage programs in detail. Together we will decide on the best program and lender for your situation. You will be pleased with the competitive rate and the service that you will receive.
---
DeAngelus Goralczyk PLLC
SERVICE / QUALITY / CULTURE
WHO WE ARE
DeAngelus Goralczyk, PLLC is a women-owned and led law firm, founded by Karen DeAngelus and Jacqueline Goralczyk. The firm dedicates its practice areas and daily focus to its three core deliverables-Service, Quality and Culture - which defines and drives the firm's mission and vision.
WHAT WE DO
The DG Team is comprised of both dynamic and seasoned professionals focusing on various aspects of the legal landscape. More importatnly we stick to what we know, and we do it well.
Our practice area includes; Data Privacy & Cybersecurity, Corporate Law, Real Estate & Lender Services, Regulatory & Compliance, Trusts & Estates.
WHERE WE PRACTICE
With offices located across New York and Florida we are able to service our clients' dynamic and multi-state needs. The DG Team is headquartered in Clifton Park, New York - a suburb of the state capital, Albany. With staffed offices located in Williamsville, New York - a suburb of Buffalow as well as Bonita Springs, Florida conveniently located on the perimeter of Fort Myers, Florida.